Research Institute Social Cohesion (RISC) - Section Hanover
| | |
| --- | --- |
| Led by: | Prof. Dr. Peter Dirksmeier |
| Team: | Angelina Göb |
| Year: | 2020 |
| Funding: | Federal Ministry of Education and Research (BMBF) |
| Duration: | 2020 – 2024 |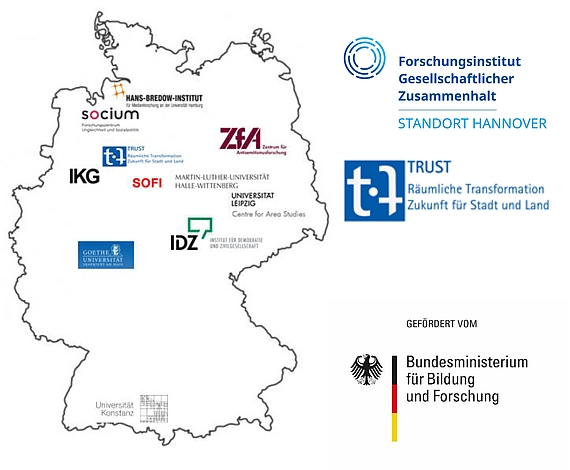 "We have to stay in dialogue with each other in our society, be respectful and negotiate differences of opinion as constructively as possible" (Anja Karliczek, Federal Minister of Education and Research).
The Research Institute Social Cohesion (RISC) was founded in June 2020 to meet this political demand in a science-based framework. The association of eleven university and research institutions is funded by the Federal Ministry of Education and Research (BMBF).
RISC is a multidisciplinary network of more than 100 researchers operating throughout Germany. In over 80 projects, the diversity of forms of social cohesion is investigated theoretically and empirically, regionally and thematically by comparing them. Furthermore, great importance is attached to the transfer of knowledge and the development of practice-relevant strategies for dealing with contemporary societal challenges.
The RISC section in Hanover examines aspects of societal cohesion from a spatial, regional perspective - from neighbourhoods to European perspectives - and analyses patterns and interrelationships of (dis)cohesion. The central question is whether and how spatial structures, elements and relationships influence societal cohesion.
The following projects are conducted at the Institute of Economic and Cultural Geography:
Cohesion in and through neighbourhoods – urban district studies and Regionalpanel NRW and Lower Saxony
Places of encounter and cohesion - a comparative study in Halle and Hanover
The projects are dealing with contacts and interactions between people in urban public spaces and the influence of encounter contexts on their attitudes and prejudices.
Project 1, in cooperation with the Institute for Interdisciplinary Research on Conflict and Violence in Bielefeld, investigates how and in what ways societal cohesion differs in various neighbourhood interaction spaces. In this context, societal cohesion is regarded as a dependent variable whose constitutional conditions need to be spatially located and socially contextualised. On the basis of a primary data collection within the framework of the Regionalpanel, a quantitative representative survey in twelve municipalities in Germany, the disciplinary perspectives of social geography, social psychology and sociology are combined in a complementary manner in order to explore spatially related attitudes and behaviour towards (dis)cohesion.
Project 2 compares different urban sites of encounter in East and West Germany and deals with contact constellations, the conditions and consequences of (dis)cohesive societal cohesion. Since encounters take place in the context of increasing diversity and plural affiliations in a modern global society, the occurrence of experiences of otherness and conflicts is (more) likely. Therefore, the micro-situational investigation examines how encounters are experienced and lived, and which patterns of understanding, expectations and practices of action are behind these constructions of cohesion.
Publications
Dirksmeier, P.; Fücker, S.; Crückeberg, J. (2022): Die zusammenhaltende Region. In U. Ermann, M. Höfner, S. Hostniker, E. Preininger & D. Simic (Hrsg.), Die Region - eine Begriffserkundung (S. 303-314). Bielefeld: transcript Verlag. DOI: 10.1515/9783839460108-027
Dirksmeier, P. (2022): Social Cohesion in Postcolonial Singapore: Effects of Anti-immigrant Attitudes and Authoritarianism. RISC Working Paper No. 3. Leipzig: Research Institute Social Cohesion. fgz-risc.de/wp-3.
Dirksmeier, P. (2022): The relationship between patriotism and regional identification: a cross-country analysis. Annals of Regional Science, (open access). DOI: 10.1007/s00168-022-01167-1
Dirksmeier, P. (2022): Book review of: Kersten, Jens; Neu, Claudia; Vogel, Berthold (2022): Das Soziale-Orte-Konzept. Zusammenhalt in einer vulnerablen Gesellschaft. Raumforschung und Raumordnung/Spatial Research and Planning (online first). https://doi.org/10.14512/rur.998
Cederquist, A.; Crückeberg, J. (2021): Cultural policy for what? Kiel's cultural policy between city development, social cohesion and intrinsic values. Periferica, 22, 167–177. DOI: 10.25267/Periferica.2021.i22.17
Dirksmeier, P.; Göb, A. (2021): Zusammenhalts-Regionen – zur Theorie der Weltgesellschaft in der Sozialgeographie. Geographica Helvetica 76, 449-454. DOI: 10.5194/gh-76-449-2021
Göb, A. (2021): Angenehmes Grün - zur Bedeutungsgestalt von Grünräumen in der Suburbia. Stadtforschung und Statistik: Zeitschrift des Verbandes Deutscher Städtestatistiker, 34(2), 52-57. https://nbn-resolving.org/urn:nbn:de:0168-ssoar-75078-7
Dirksmeier, P.; Göb, A.; Herrmann, S.; Ibendorf, J.; Knaps, F.; Othengrafen, F.; Ruffing, E. (2020): Räumliche Unterschiede und gesellschaftlicher Zusammenhalt. In: Deitelhoff, N.; Groh-Samberg, O.; Midell, M. (Hrsg.): Gesellschaftlicher Zusammenhalt. Ein interdisziplinärer Dialog. Frankfurt/New York: Campus, S. 273-294.

Presentations to Scientific Audiences
Göb, A.: Places for the People – Bibliotheken und ihre Bedeutung für die Stadt/-Gesellschaft. FGZ Jahrestagung Cluster 2 – Strukturen, Räume und Milieus des Zusammenhalts. Bremen (Deutschland) 03.03.2023.
Göb, A.: Nachhaltige Nachbarschaften, nachhaltig Nachbarschaften?! – Praktiken (dis)kohäsiven Zusammenlebens in urbanen Quartieren. 6. Dortmunder Konferenz Raum- und Planungsforschung (DOKORP): "Wenn möglich, bitte wenden!" Forschen und Planen für den Sustainability Turn. Dortmund (Deutschland) 13.02.2023.
Göb, A.: Bibliotheken rechnen sich nicht, aber sie zahlen sich aus. Zum Wert von Bibliotheken in der und für die Stadt/-Gesellschaft. Schader-Stiftung (öffentliche Abendveranstaltung). Darmstadt (Deutschland) 08.02.2023.
Göb, A.: Was hält uns zusammen? Ein Fragebogen als Ausgangspunkt einer Positionierungskrise. Neue Kulturgeographie. Halle (Deutschland) 27.01.2023.
Crückeberg, J.: Social cohesion as a new argument for cultural policy? The COVID-19 crisis as a disclosure mechanism. 12th International Conference on Cultural Policy Research. Antwerpen (Belgien), 21.09.2022.
Dirksmeier, P.: Urbaner Raum und sozialer Zusammenhalt – Implikationen einer komplexen Relation. Online-Fachtagung des Forschungsprojektes

StraInQ

Soziales Zusammenleben im Quartier stärken -

Kultursensible

Räume, Teilhabe und Antidiskriminierung, 14.10.2022.

Göb

, A.:

Neighbourhood

libraries

as

social

infrastructure

.

RGS

-

IBG

Annual

International

Conference

– AC2022:

Geographies

beyond

recovery

.

Newcastle

(UK) 01.09.2022.
Göb, A.: (

Dis

)

cohesion

in urban

neighbourhoods

–

negotiating

solidarities

in

daily

encounters

. RC21

Conference

2022 –

Ordinary

Cities

in

Exceptional

Times

. Athen (Griechenland) 25.08.2022.
Dirksmeier, P.: Räumliche Aspekte des sozialen Zusammenhalts - die Beispiele Singapur und Hannover. Kolloquium des Instituts für Geographie, Osnabrück. 13.06.2022.
Dirksmeier, P.: Resonanzen örtlichen und sozialen Zusammenhalts. Quo vadis Raumatmosphären-Forschung? St. Gallen. 12. Mai 2022.
Göb, A: Zur (Un-)Erwartbarkeit von Emotionen in sozialen Interaktionen - "Situativer Zusammenhalt" in Interviews. 6. Jahrestagung des Arbeitskreises Qualitative Methoden der Geographie und der raumsensiblen Sozial- und Kulturforschung des VGDH zum Thema Qualitative Methoden und Emotionen. Goslar. 14.03.2022.
Göb, A.: Zusammenhalt(en) vor Ort – Begegnungen in und mit der Nachbarschaft (Titel), "Räumliche Perspektiven auf gesellschaftlichen Zusammenhalt. Tagung des Forschungsfeldes Raum und Region" (Name der Veranstaltung), Hannover (digital), 02.12.2021.
Göb, A.: Lebenswelten im Suburbanen – Zur sozialen und raumbezogenen Identität, Interaktion und Kohäsion (Titel), "Stadterweiterung in Zeiten der Reurbanisierung – neue Suburbanität?, Kassel – Universität Kassel (digital), 25.10.2021.
Dirksmeier, P.: Stadt und Zusammenhalt. Institutskolloquium des FGZ Teilinstituts Frankfurt am Main. 25.10.2021.
Göb, A.: Lokal situierter gesellschaftlicher Zusammenhalt zur theoretisch empirischen Bedeutsamkeit von Stadtteilstudien, "Gesellschaftlicher Zusammenhalt vor Ort die Rolle digitaler Medien Digitale Kurztagung 21.10.2021", Hamburg – Leibniz-Institut für Medienforschung, Hans-Bredow-Institut (HBI) (digital), 21.10.2021.
Dirksmeier, P.: Konflikt und Vorurteil im super-diversen Singapur. Jahreskonferenz des Forschungsinstituts Gesellschaftlicher Zusammenhalt. Online 09.07.2021.
Göb, A.; Rees, Y.: Alltag als Krise?! Sozialraumforschung in urbanen Nachbarschaften, "Zusammenhalt in der Krise", Jahreskonferenz des Forschungsinstituts Gesellschaftlicher Zusammenhalt (online), 09.07.2021.
Göb, A.; Rees, Y.: Neighbourhoods in crisis? A mixed-methods study on conflict and cohesion in socio-spatial entities, "Social Cohesion in Times of Crisis: Concepts, Approaches, and Perspectives", Summer School of the Research Institute Social Cohesion (RISC) (online), 05.07.2021.
Göb, A.: Doing Social Cohesion – neighbourly throwntogetherness in urban encounters, "Encounters: the Coincidence of space, time, and subjectivity", Cambridge – St John's College (Ort), 19.09.2019.

Panel chair/host
Göb, A.; Peterson, M.: Krisen im Kontext: Die Bedeutung von lokalen Infrastrukturen für den gesellschaftlichen Zusammenhalt (Symposium), Neue Kulturgeographie (NKG), Halle, 28.01.2023.
Göb, A.; Leonie Tuitjer, L.: Symposium zum Thema: Gesellschaftlicher Zusammenhalt im Klimawandel, "#GeoWoche2021", Frankfurt am Main – Deutschen Gesellschaft für Geographie (DGfG) (digital), 07.10.2021.
Dirksmeier, P.; Göb, A.: (Dis)Cohesion as sense of urbanity (Titel), "Sensing the City – Place, People, Power" (Name der Veranstaltung), RC21 Conference (Track: Urban social practices & experience) (online), 15.07.2021.
Göb, A.; Rees, J.: Sozialräumliche Verortung von Zusammenhalt: Nachbarschaften als alltäglicher Aushandlungsort von Krisen, FGZ-Jahreskonferenz 2021: Zusammenhalt in der Krise (online), 09.07.2021.
Dirksmeier, P.; Göb, A.: Stadt – Begegnung – Zusammenhalt (Titel), "Räume des gesellschaftlichen Zusammenhalts – Formen und Formate von sozialer Kohäsion", Auftaktveranstaltung des Teilinstituts Hannover (online), 09.03.2021.

Transfer Events
Göb, A.: Zusammenhalt(en) in Nachbarschaften, "Europäischer Nachbarschaftstag", Hannover (Sahlkamp), 20.05.2022.
Göb, A.: GESELLSCHAFT MACHT ZUSAMMENHALT - Bibliotheken als Räume der Begegnung (Titel), "Tag der offenen Gesellschaft", Hannover (Oststadtbibliothek und Stadtbibliothek Linden), 17.-18.06.2022.
Göb, A.: Nachbarschafts-Talk, "Das grüne Wohnzimmer", Hannover, 23.07.2021.
Göb, A.: Nachbarschaftsforschung - Forschung in der Nachbarschaft, "Lust auf Linden-Süd Show, Hannover, 10.07.2021.